I have visited this airport dozens of times in my life and have watched many changes take place, join me as I take you through this one-of-a-kind airport on the Big Island of Hawai'i.
In this comprehensive Kona International Airport guide, you'll learn everything you need to know about Kona Airport, from navigating its two terminals to finding the best transportation options for your needs. So, whether you're a first-time visitor or a seasoned Hawaii traveler, let's dive into the world of the Ellison Onizuka International Airport (KOA) and discover how this airport can be the gateway to your Hawaiian adventures.
Not a reader of guides? You are in luck, I did a full video review of the Kona Airport so you can see everything I talk about while I walk the premises.
Key Takeaways
Navigate Kona International Airport (KOA) with 2 terminals, various facilities and amenities.
Choose from a variety of airlines for domestic & international destinations, plus transportation options such as rental cars, rideshare services & more.
Enjoy complimentary Wi-Fi access throughout the terminal and explore Hawaii's Big Island attractions with interisland flights & connections.
Kona International Airport, also known as KOA Airport, is located just a few miles northwest of Kailua-Kona and serves as the largest airport on Hawaii's Big Island. It is a hub for interisland flights.
Unlike its counterpart, Hilo International Airport, Kona Airport boasts an open-air design with tiki hut-style roofs, providing passengers with a true Hawaiian ambiance. As the primary airport for West Hawaii, KOA serves 10 airlines, connecting passengers to various domestic and international destinations.
With its convenient location, ample facilities, and airport support services, Kona International Airport is the perfect starting point for exploring the wonders of Hawaii Island.
Whether you're visiting Waikaloa, Captain Cook, or the beautiful Kailua-Kona area, Kona Airport makes it easy for you to access the island's top things to do. From the moment you step off your flight onto the open-air ramp, you'll be immersed in the island's unique charm and warmth. Read on to discover more about Kona Airport's terminal information, airlines, and destinations.
Terminal Information
Kona International Airport features a single location, split into Terminal 1 and Terminal 2, each accessed via one central security checkpoint and a selection of airlines.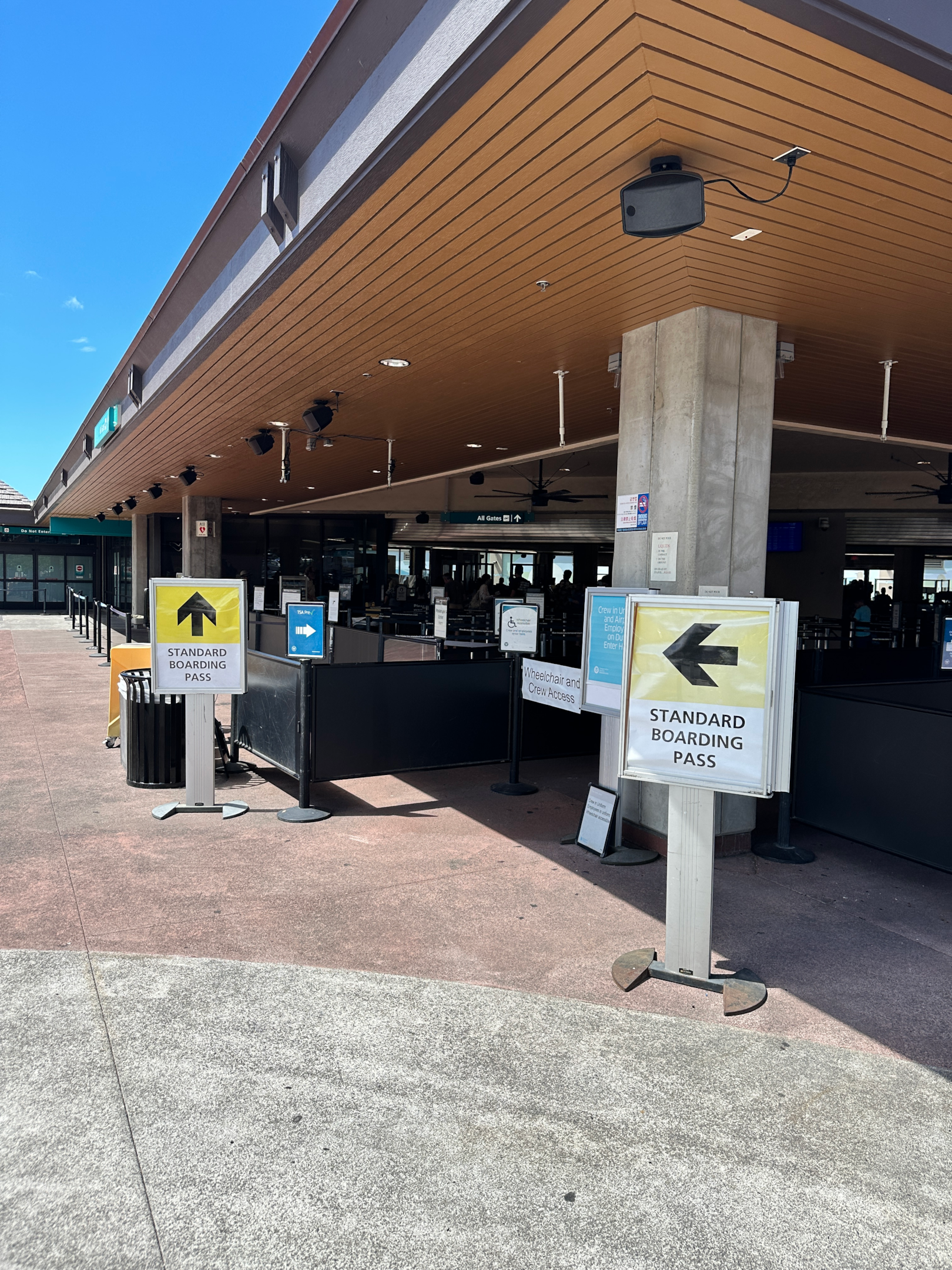 As you navigate through the airport, you'll find various facilities and amenities to make your travel experience as seamless as possible, including:
Restaurants and cafes
Retail stores
Car rental services
ATMs and currency exchange
Wi-Fi access
Restrooms and baby changing facilities
Baggage claim area
Ground transportation options
Watch for the signs that will guide you towards your gate at the passenger terminals, facilitating a smooth boarding process at this major airport.
Airlines and Destinations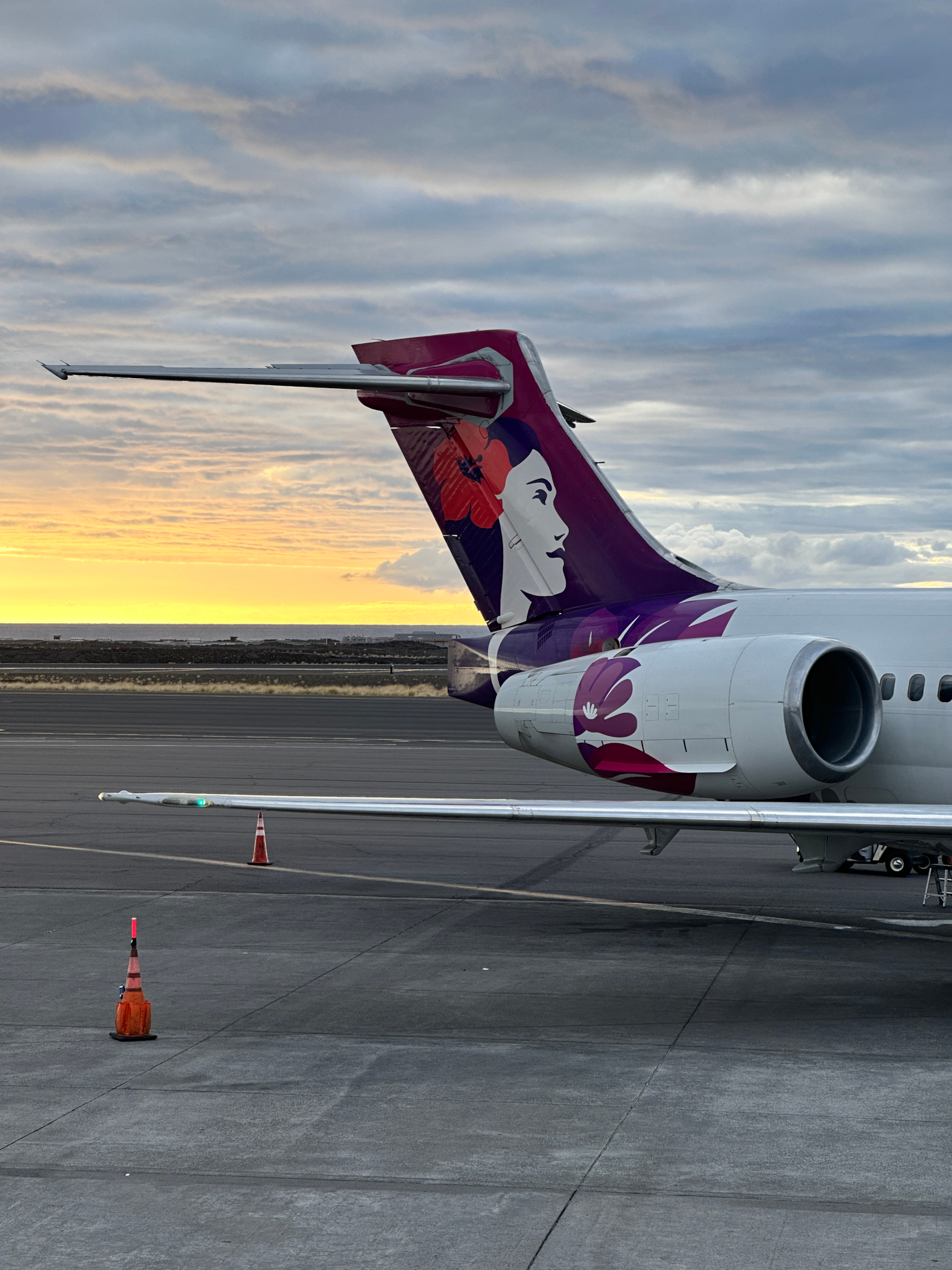 At Kona Airport, you'll find a wide range of airlines to choose from, including:
Air Canada
Alaska Airlines
American Airlines
Delta Airlines
Hawaiian Airlines
Japan Airlines
United Airlines
Westjet
Mokulele Airlines
Southwest Airlines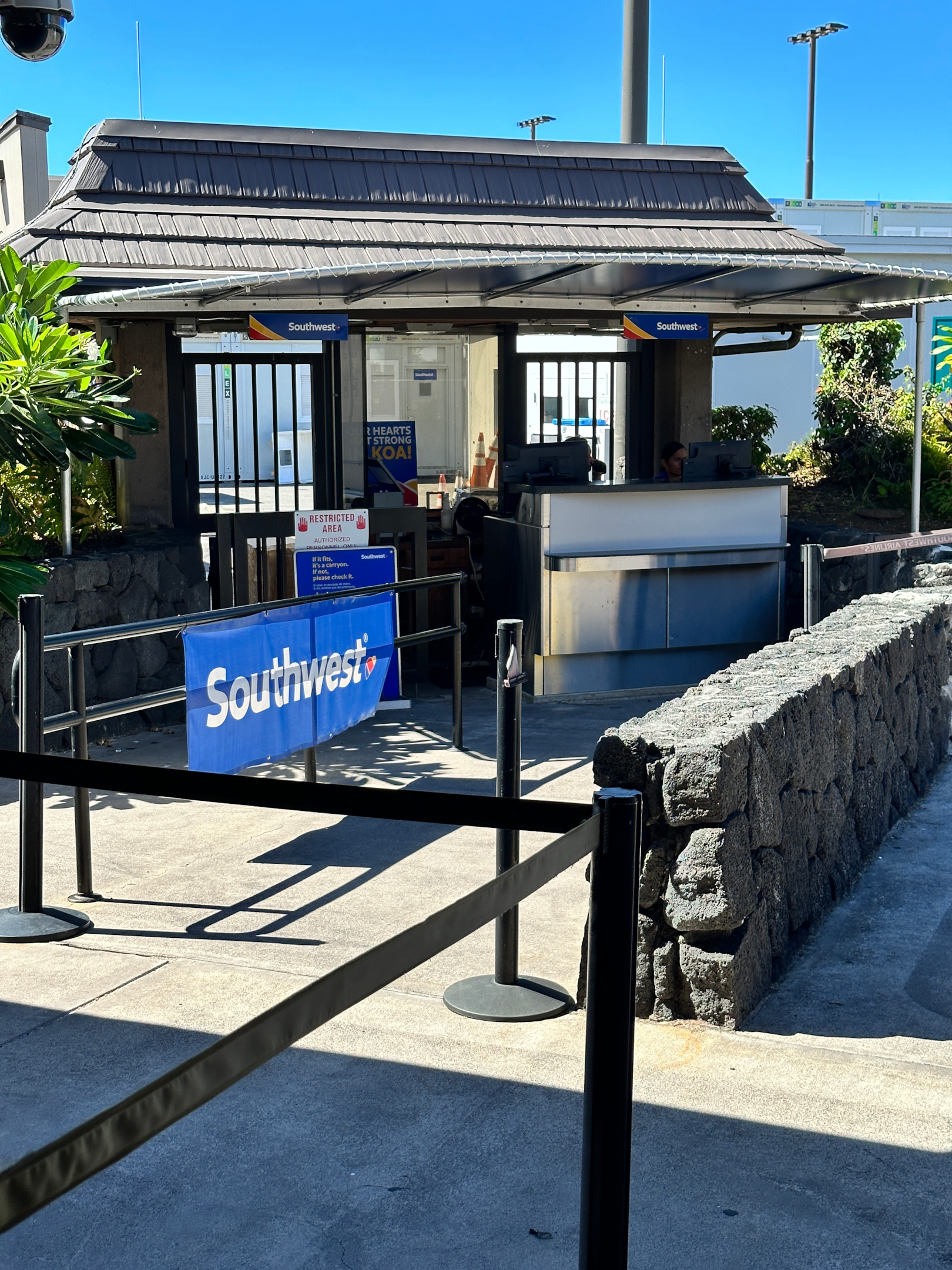 These airlines connect passengers to numerous domestic and international destinations, as well as provide air cargo services.
The top 10 domestic routes from Kona International Airport are, in order of ranking:
Honolulu
Seattle
San Francisco
Los Angeles
Kahului
Denver
Phoenix
Dallas
Oakland
San Jose
These cities offer the most accessible frequencies for travelers flying out of Kona. The abundance of options at Kona Airport simplifies your exploration of the beauty of Hawaii and beyond. This list does change from time to time, use this tool to see current flights in and out of Kona International Airport.
There are currently 2 direct international flights from Japan, Narita (NRT) Haneda (HND), and 2 from Canada, Vancouver (YVR), and Calgary (YYC). As demand ebbs and flow so do the number of flights and variety of direct destinations.
Transportation Options at KOA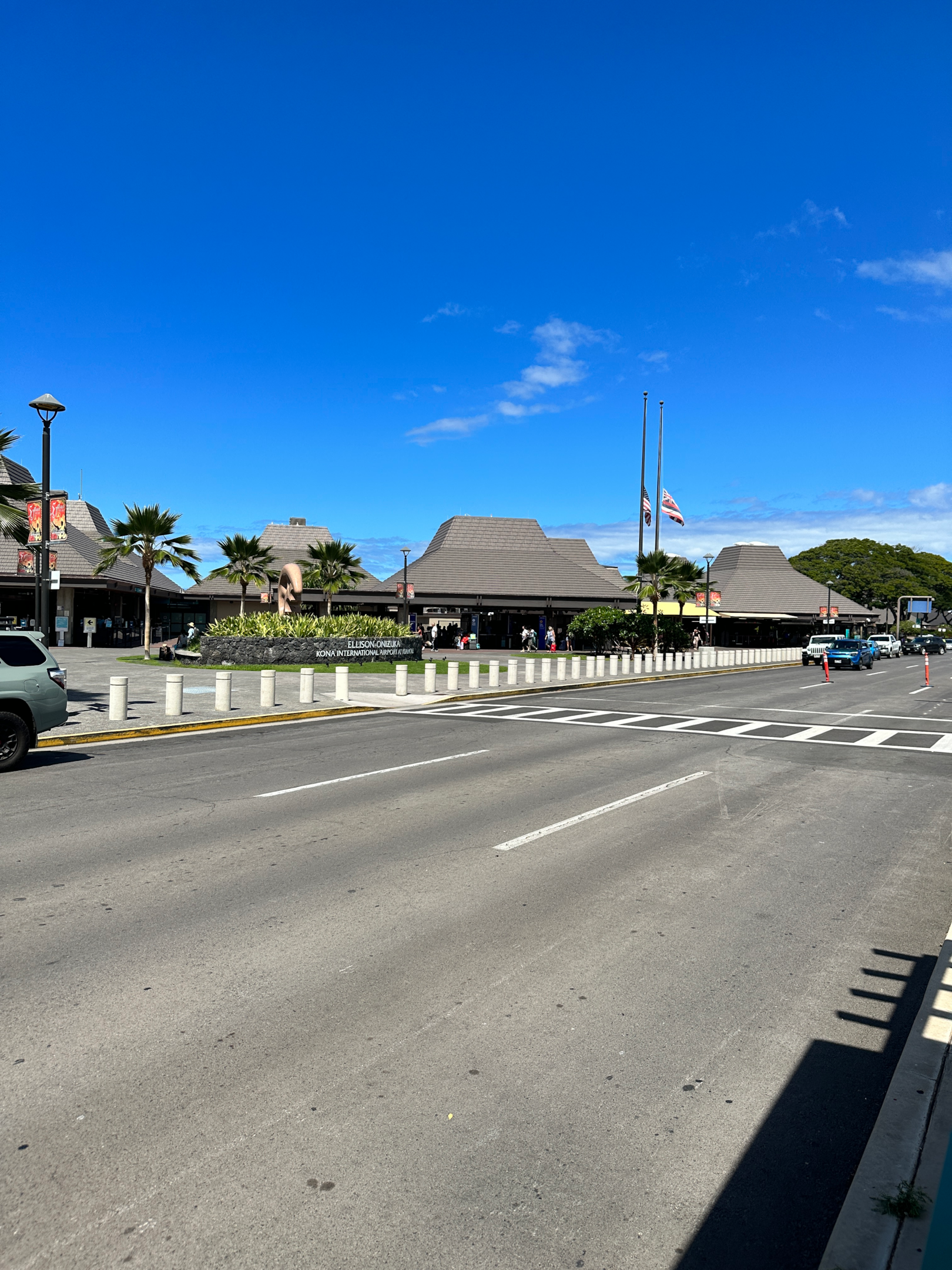 Once you've arrived at Kona International Airport, you'll find a variety of transportation options to help you explore the Big Island with ease. From rental cars to rideshare services like Uber and Lyft, as well as taxi and shuttle services, there's a mode of transportation to suit every traveler's needs and preferences.
It's worth noting that the most economical option, taking the bus, is also the least convenient mode of transportation at KOA. With that said, if you are working within a set budget then you can see all the routes and areas serviced here.
Renting a car is the most advantageous form of local transportation on the Big Island, as it allows you the freedom to explore at your own pace and discover off-the-beaten-path attractions. Let's examine in detail the different transportation options at Kona Airport.
Rental Car Services
At Kona Airport, you'll find a range of rental car services to choose from, including major companies like:
Enterprise Rent-A-Car
Alamo Rent A Car
Avis Car Rental
Budget Rent A Car
Dollar Rent A Car
Hertz
National
Thrifty
as well as local providers. While renting a car is a straightforward process, advance booking is advised, particularly during peak travel seasons and major events like the Ironman Triathlon and the Merrie Monarch Festival, when vehicle availability on the Big Island is limited.
For those who prefer the convenience of rideshare services, both Uber and Lyft are available at Kona International Airport. To request a ride, simply open your preferred app and follow the prompts. With just a few taps, you'll be on your way to your destination.
You can also just walk out from the baggage claim area and you will find the Rideshare pickup spot in the center median across from the security checkpoint. Its a short walk from either baggage claim.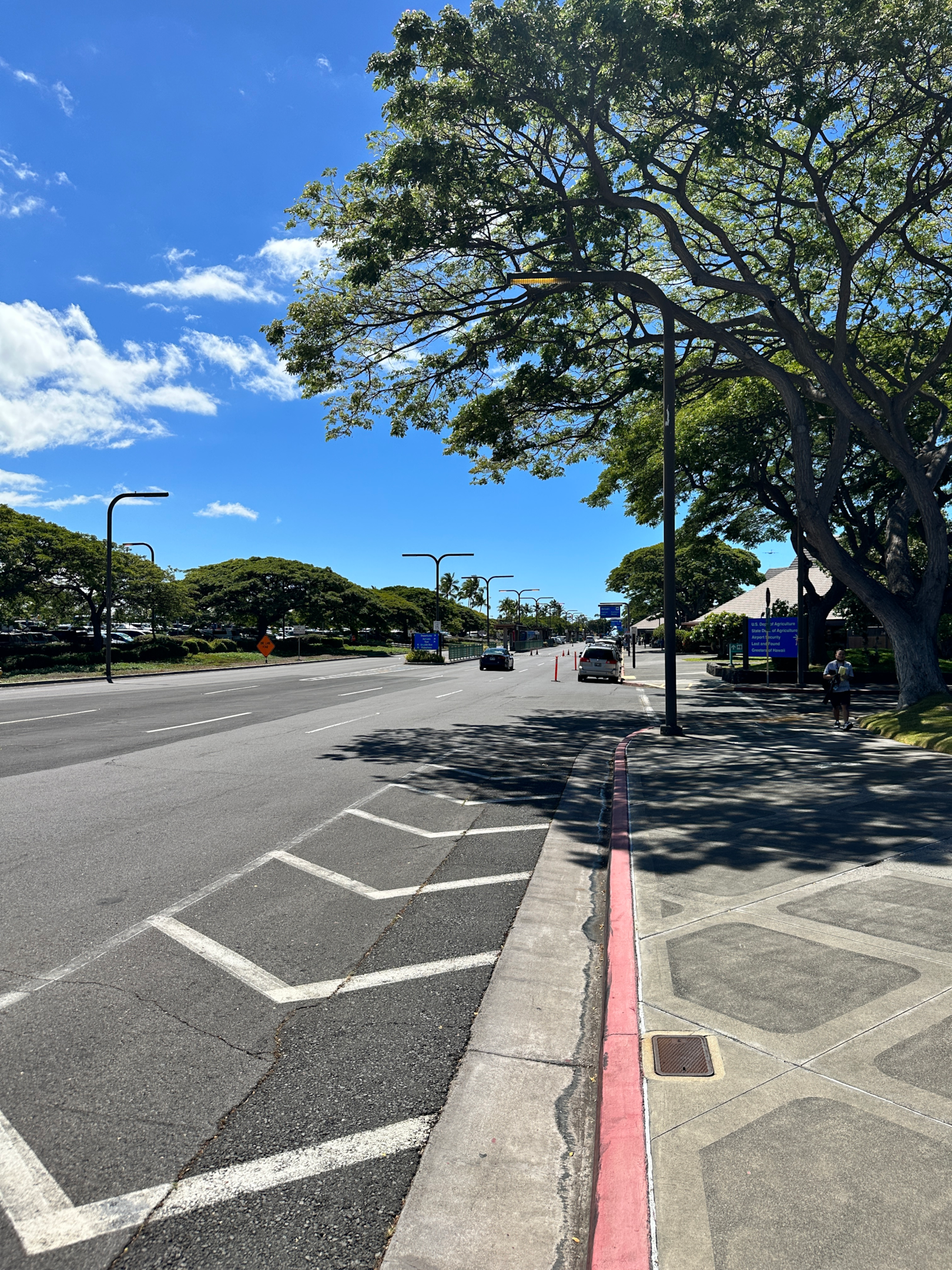 For more information about Uber & Lyft rideshare services, visit their respective websites.
Taxi and Shuttle Services
If you're looking for alternative transportation options, Kona Airport also offers a variety of taxi and shuttle services, such as SpeediShuttle, Holoholo, and GO Airport Shuttle. To arrange for a taxi or shuttle service, you can contact the provider directly or reserve online. Keep in mind that the cost of these services will depend on the distance traveled and the specific provider you choose.
You will find the taxi's waiting near baggage claims A-1 and A-2, look for the familiar yellow topper on the cars.
For more information about taxi and shuttle services at Kona Airport, visit the airport's official website.
Facilities and Amenities at Kona Airport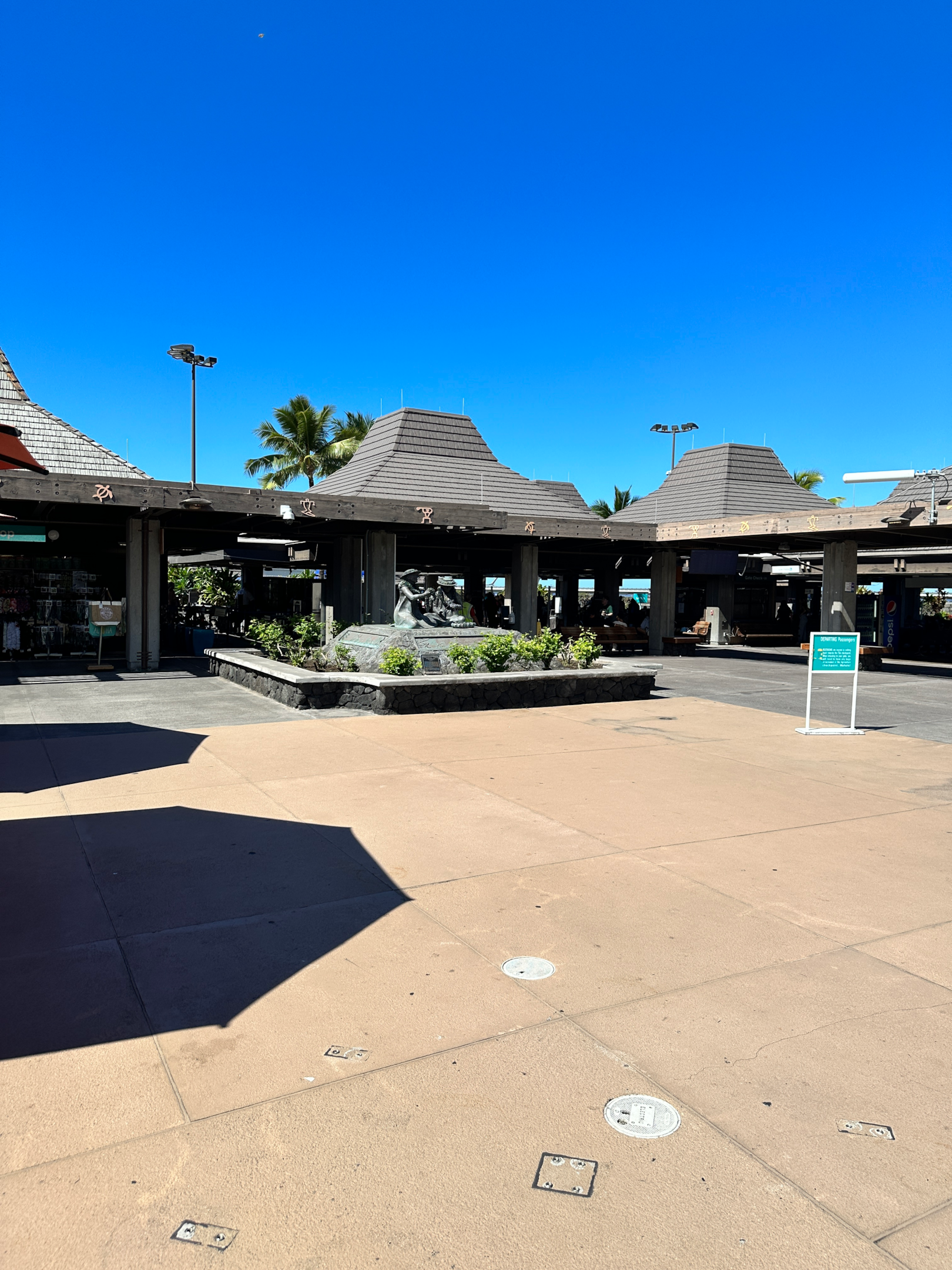 Kona International Airport is dedicated to ensuring a comfortable and enjoyable experience for its travelers. As such, it provides a variety of facilities and amenities to cater to your needs. Some of the facilities and amenities you can anticipate during your visit include:
Free Wi-Fi
Restrooms
Pet relief stations
Charging stations
Air-conditioned gate
Kona Airport, also known as Keahole Airport, has you covered with these and more amenities to enhance your travel experience.
Whether you need a quick snack, a place to recharge your devices, or assistance for a traveling pet, Kona Airport's facilities are designed to make your journey as smooth and pleasant as possible. The following subsections will elaborate on each of these offerings, helping you understand what to expect upon your arrival at the airport.
Baggage Claim Areas
There are two baggage claim areas at the Kona Airport, A and B. They both have 2 carousels and are directly outside the arrival area from both terminals.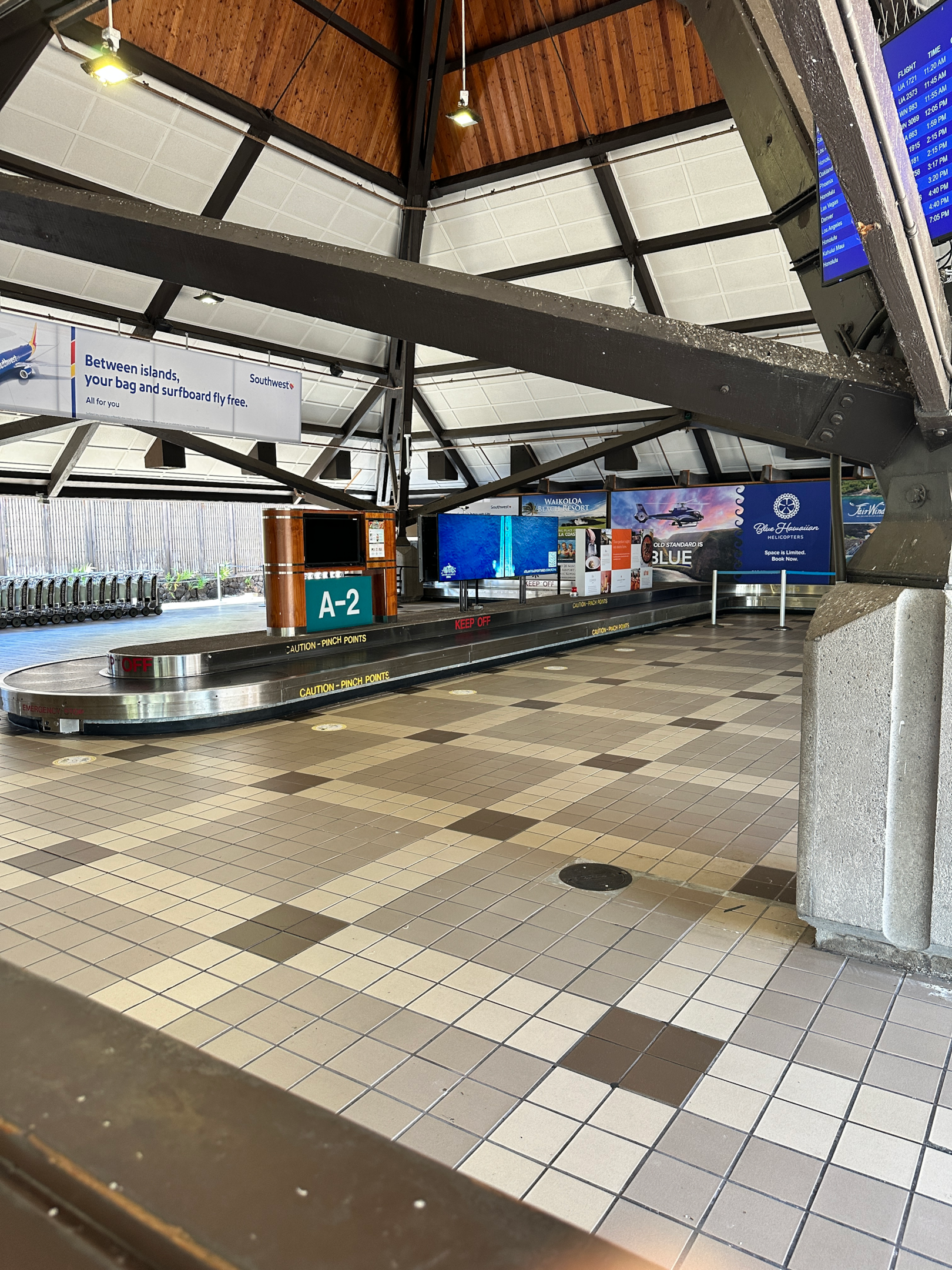 ATM machines are nearby as well as Cartes for transporting your luggage. One unique thing about the Kona Airport is that you will also find pay phones in this area.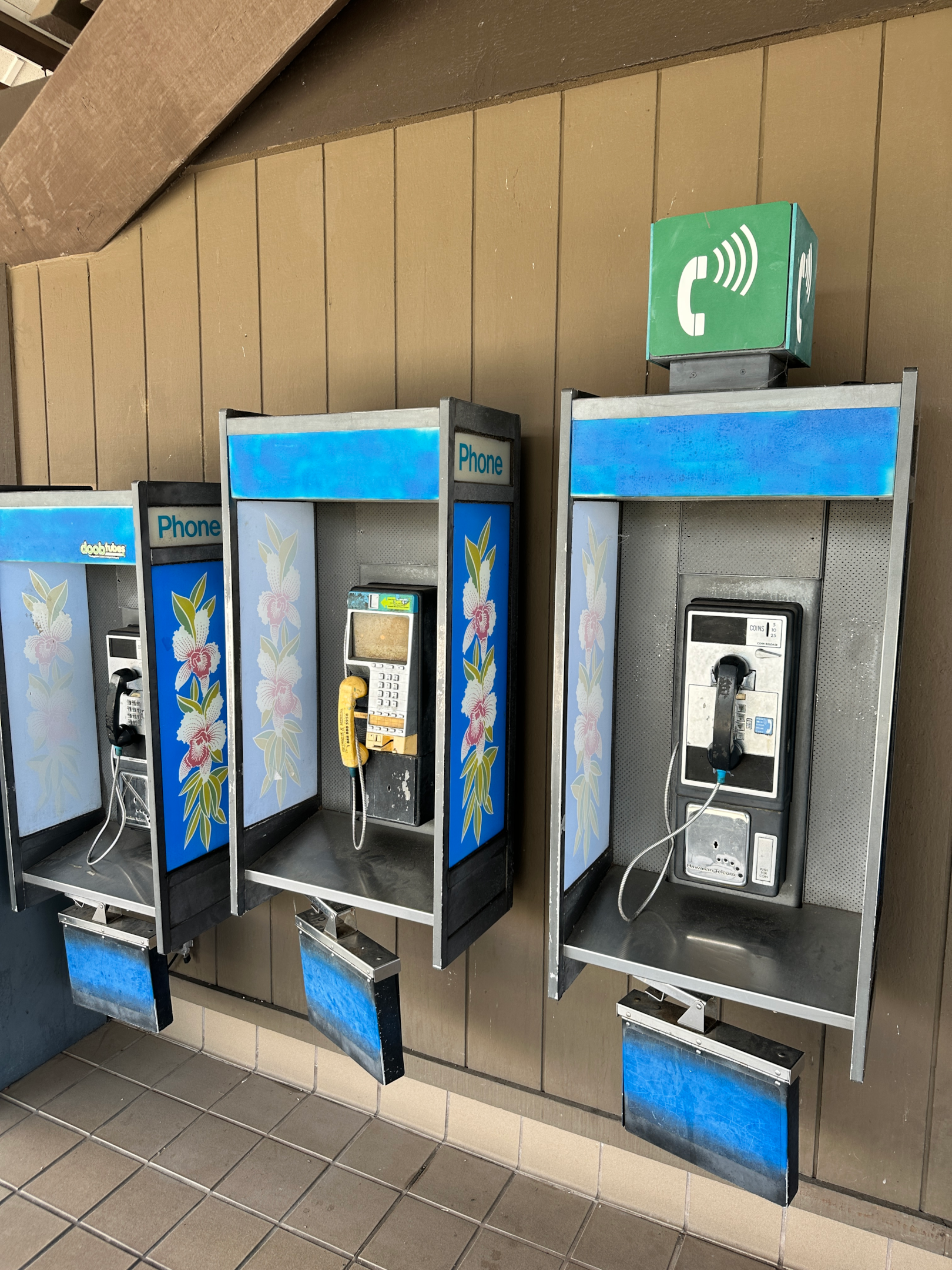 Wi-Fi at Kona Airport
Stay connected while you wait for your flight with Kona Airport's complimentary Wi-Fi, available throughout the terminal. To access the Wi-Fi, simply connect to the "Kona Airport Free Wi-Fi" network and enjoy unlimited browsing, streaming, and messaging during your layover or before your departure.
Bathrooms
Kona Airport ensures that travelers have access to clean and well-maintained restrooms, located in both the North and South Terminal restroom buildings. These restrooms are suitable for all passengers, with wheelchair-accessible family (unisex) restrooms also available for added convenience.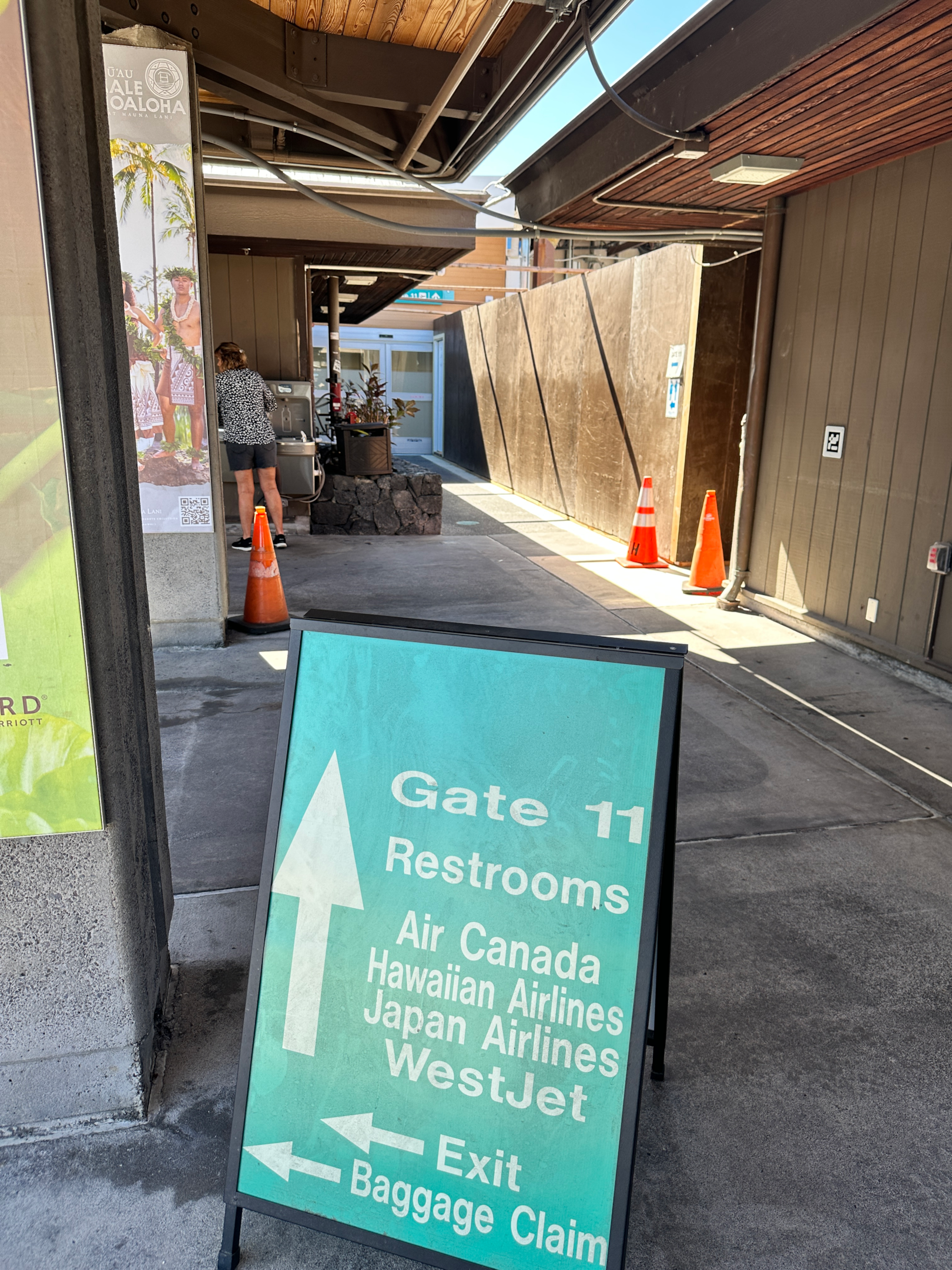 Pet Relief Station
Traveling with a furry friend? Onizuka Kona International Airport, also known as Kona Airport, provides a pet relief station situated across the street from the Ellison S. Onizuka Space Center on the north side of the airport. This grassy area is equipped with waste bags and a trash can for easy disposal, ensuring that your pet has a comfortable and clean space to take care of their needs.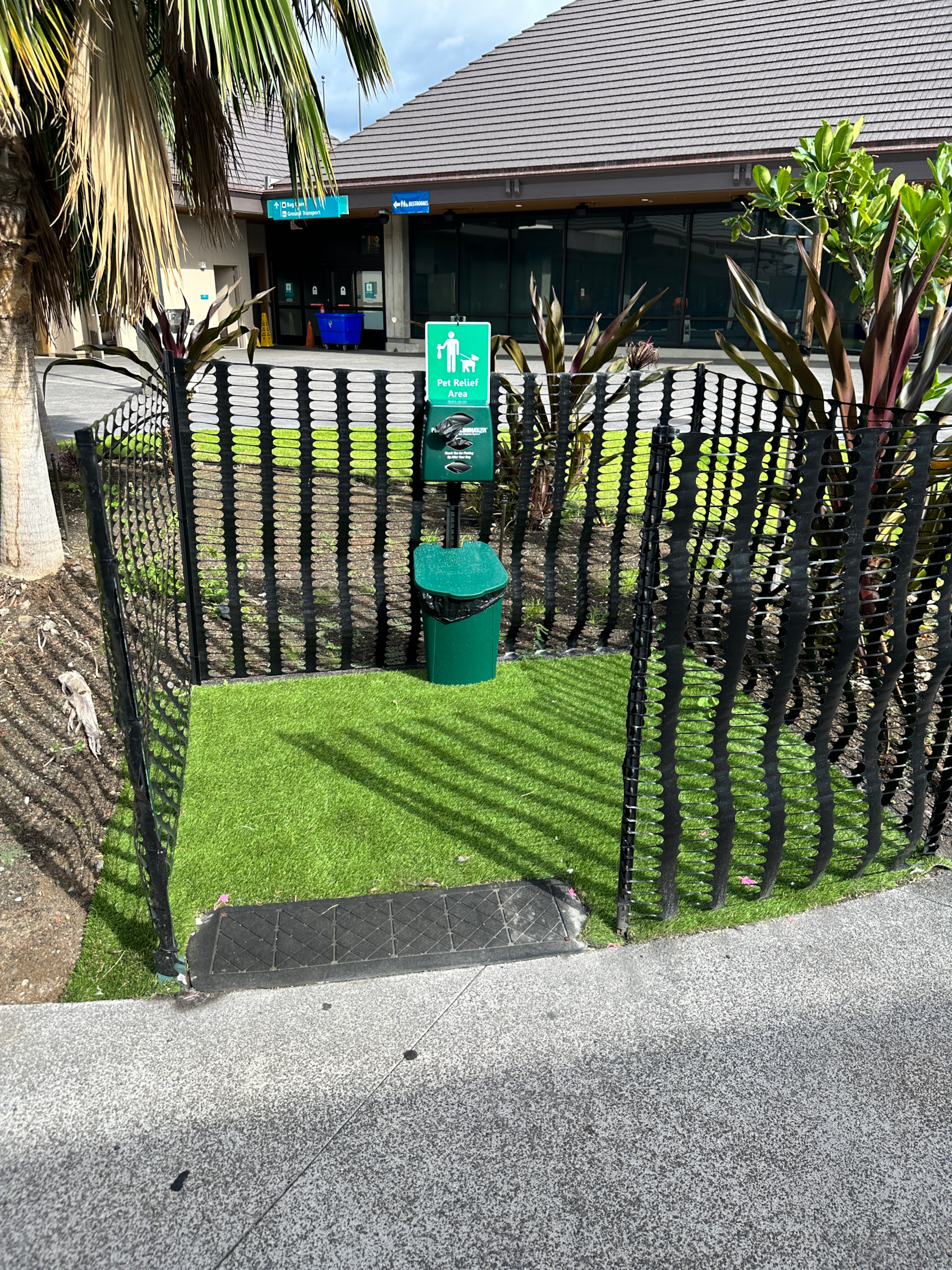 Please remember to keep your pet leashed at all times and maintain responsibility for cleaning up after them.
Charging Stations
Although Kona Airport does not have designated charging stations, I saw various spots near benches in the waiting area. The plugs were not in the most ideal locations and some looked kind of sketchy, for the best experience got to gate 11.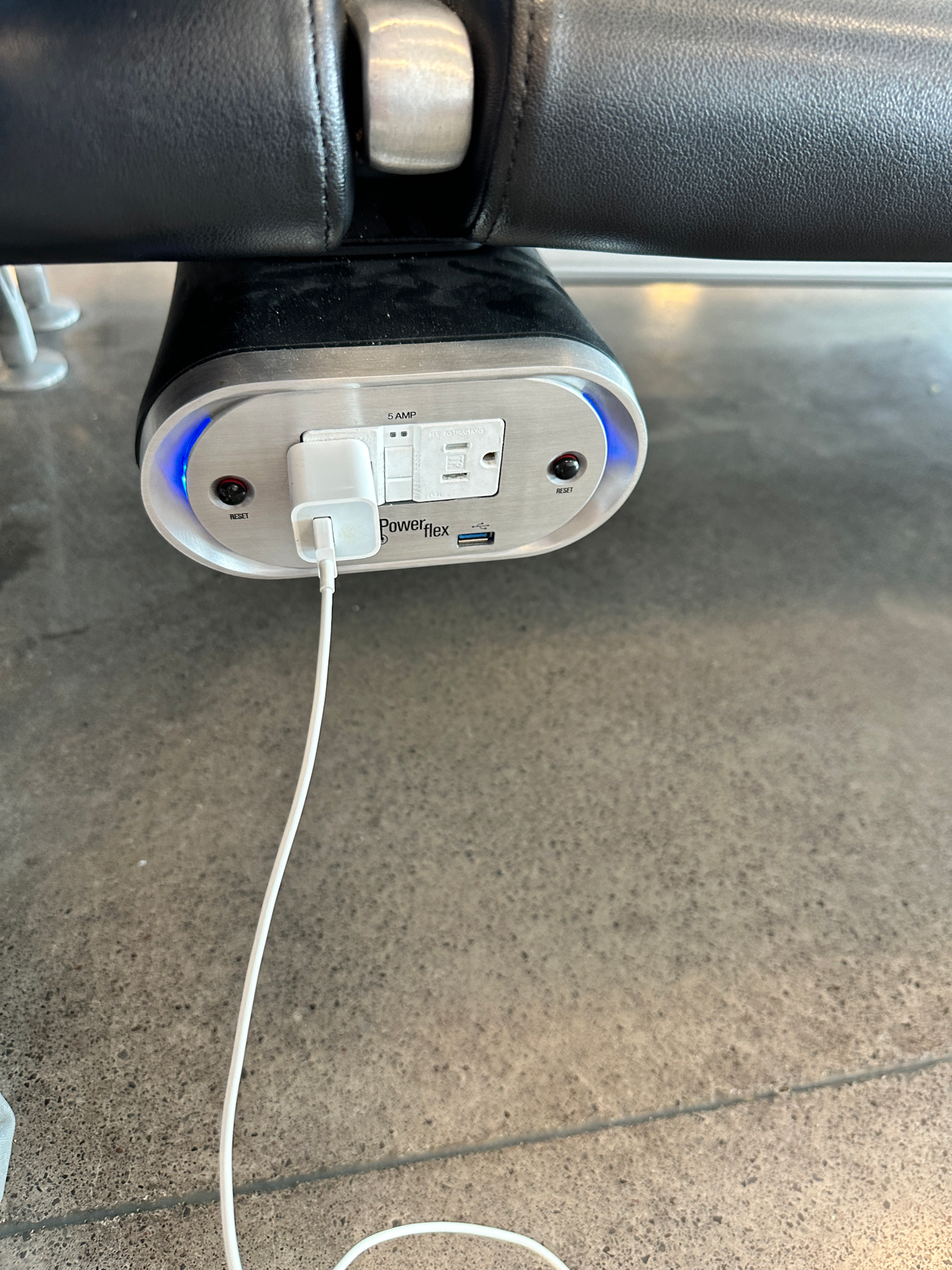 So, whether you need to power up your smartphone, laptop, or other electronic devices, be sure to keep an eye out for these convenient charging spots during your layover.
Air-conditioned Gate
While Kona Airport's open-air design allows for natural ventilation and a unique Hawaiian ambiance, the airport also provides an air-conditioned gate for travelers seeking respite from the heat. This gate ensures that passengers can enjoy a comfortable waiting area before boarding their flights, providing a pleasant environment in the typically warm Hawaiian climate.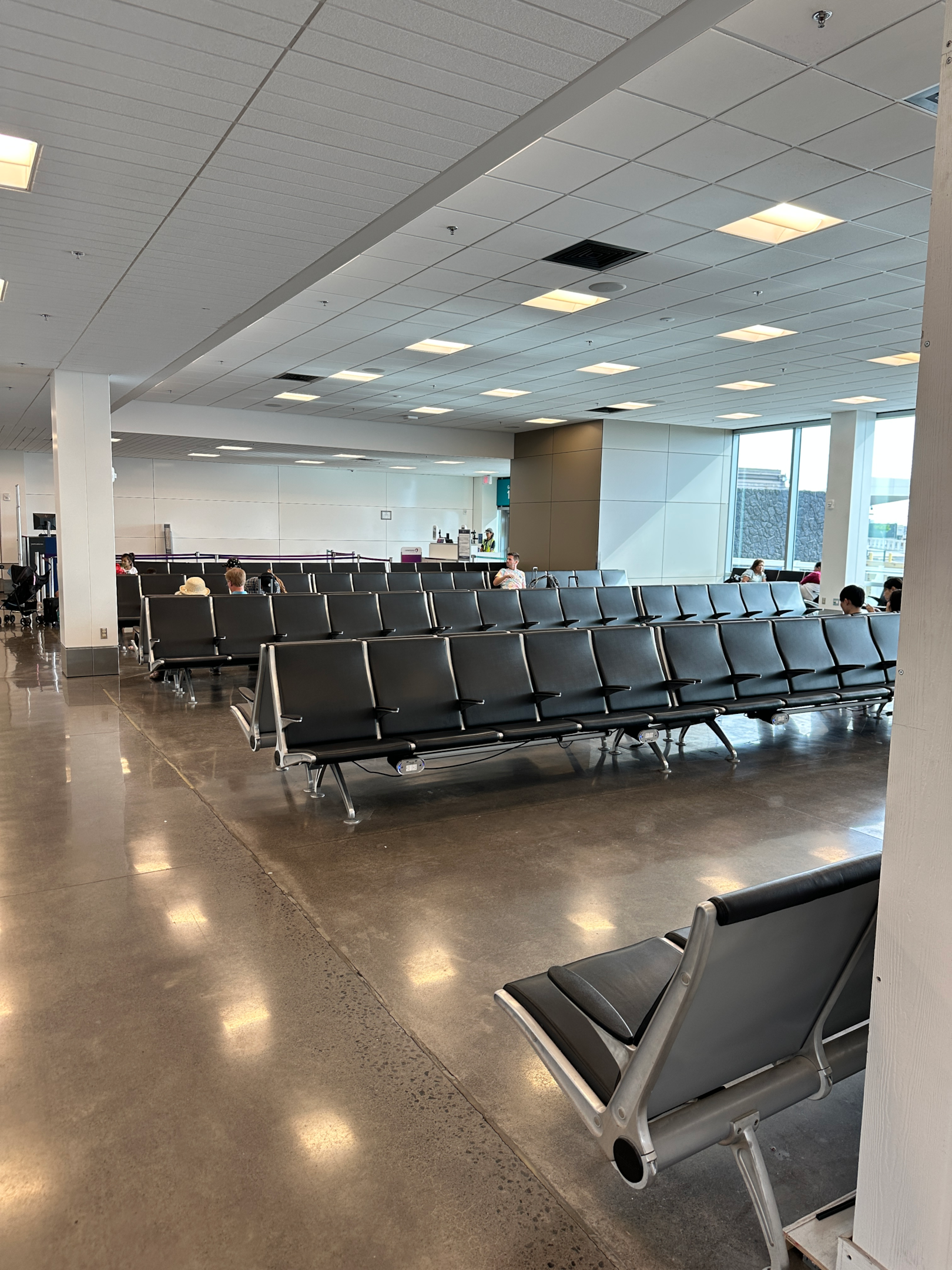 Accessibility and Special Assistance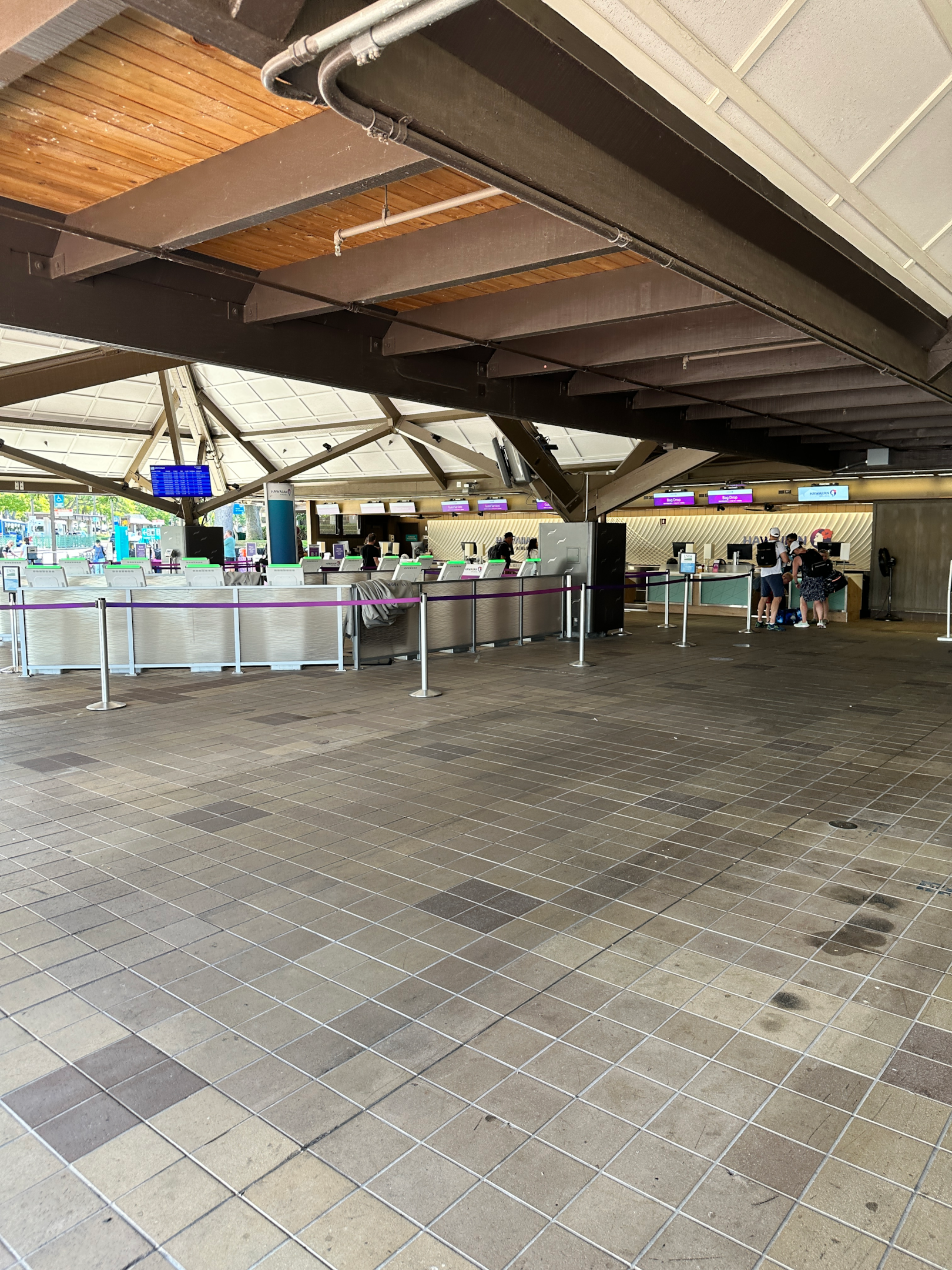 Kona International Airport is committed to providing a seamless and enjoyable travel experience for all passengers, including those with disabilities. The airport offers various accessibility services, such as:
Boarding lifts
Wheelchair assistance
Accessible restrooms
Tactile signage
Service animal relief areas
These services are available to ensure that every traveler can navigate the airport with ease. The one nice thing about the Kona Airport is that it is all on one level, no elevators needed. Access on and off the airplanes is via ramp and not stairs or ladders.
To access the airport's accessibility services, passengers must pre-arrange these services with their airline prior to their arrival at Kona Airport. In addition to boarding lift services, the airport's Visitor Information Program is available to assist travelers between the hours of 7:45 a.m. and 9 p.m. daily, providing comprehensive support and guidance throughout their journey. For further information regarding accessibility services and special assistance at Kona Airport, consult the airport's official website.
Parking at Kona Airport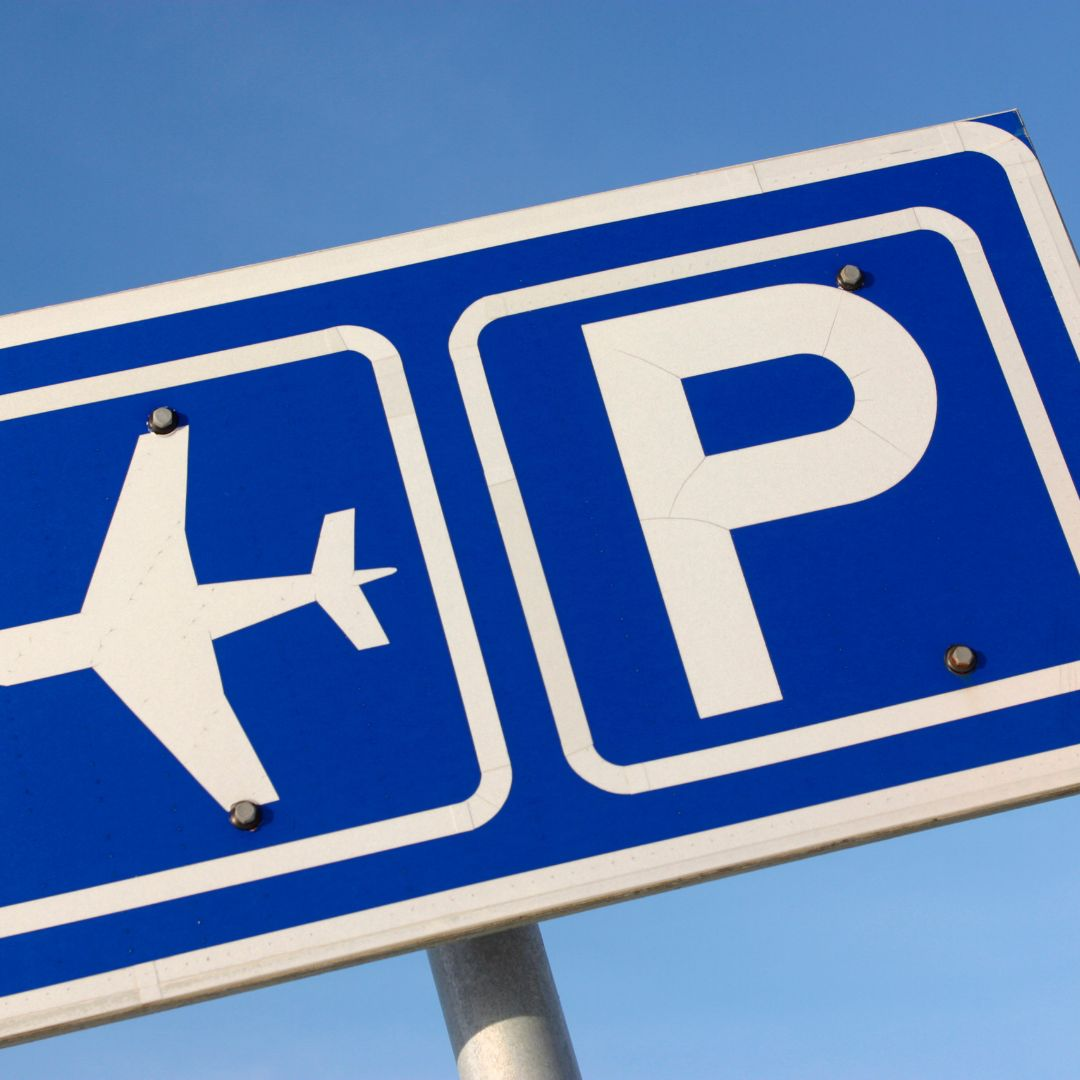 Travelers arriving at Kona Airport by car will find a public parking facility conveniently located across the street from the terminals. Whether you're dropping off a passenger, picking someone up, or parking for an extended period, Kona Airport offers a variety of parking options to suit your needs.
Parking rates at Kona Airport vary depending on the duration of your stay. Here is a breakdown of the rates:
First 15 minutes: Free
First hour: $2
Second hour: $3
Daily maximum: $15
For those requiring long-term parking, monthly parking is available for $160 per month. Payment can be made using cash, credit card, or debit card, making it a convenient and hassle-free process.
Electric Vehicle Parking
Parking stalls reserved for use by electric vehicles are available in the main public parking lot.
The main public parking lot also includes an electric vehicle charging station which can provide service to two vehicles. The current charge for use of the electric vehicle charging station is $7.00 for 24 hours.
Cell Phone Waiting Lot
The cell phone lot for Kona International Airport is situated close to the International Arrivals Building (IAB), just off the Keahole airport loop road and a short distance from the main terminal. It's open for use whenever flights are active. Please note that vehicles shouldn't be left unattended and there's a one-hour parking limit. To find the lot, simply follow the signs marked "Cell Phone Parking" along the road.
Visitor Information and Support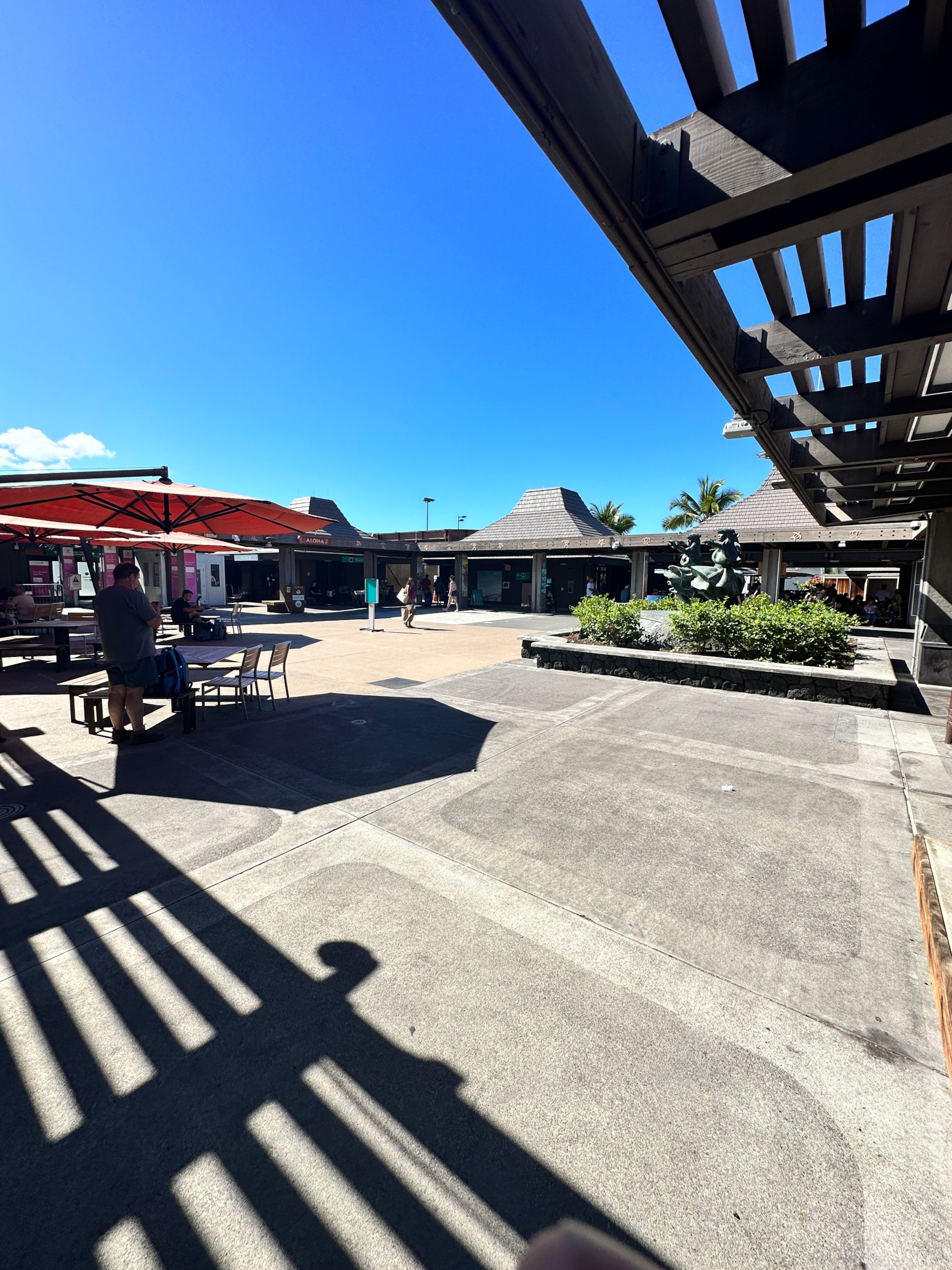 Kona Airport's Visitor Information Program is dedicated to providing support and information for travelers navigating the airport and exploring the Big Island. Staffed from 7:45 a.m. to 9 p.m. daily, the program's booths offer guidance on airport facilities, local attractions, and transportation options, ensuring that you have all the information you need to make the most of your Hawaiian adventure.
Exploring Hawaii's Big Island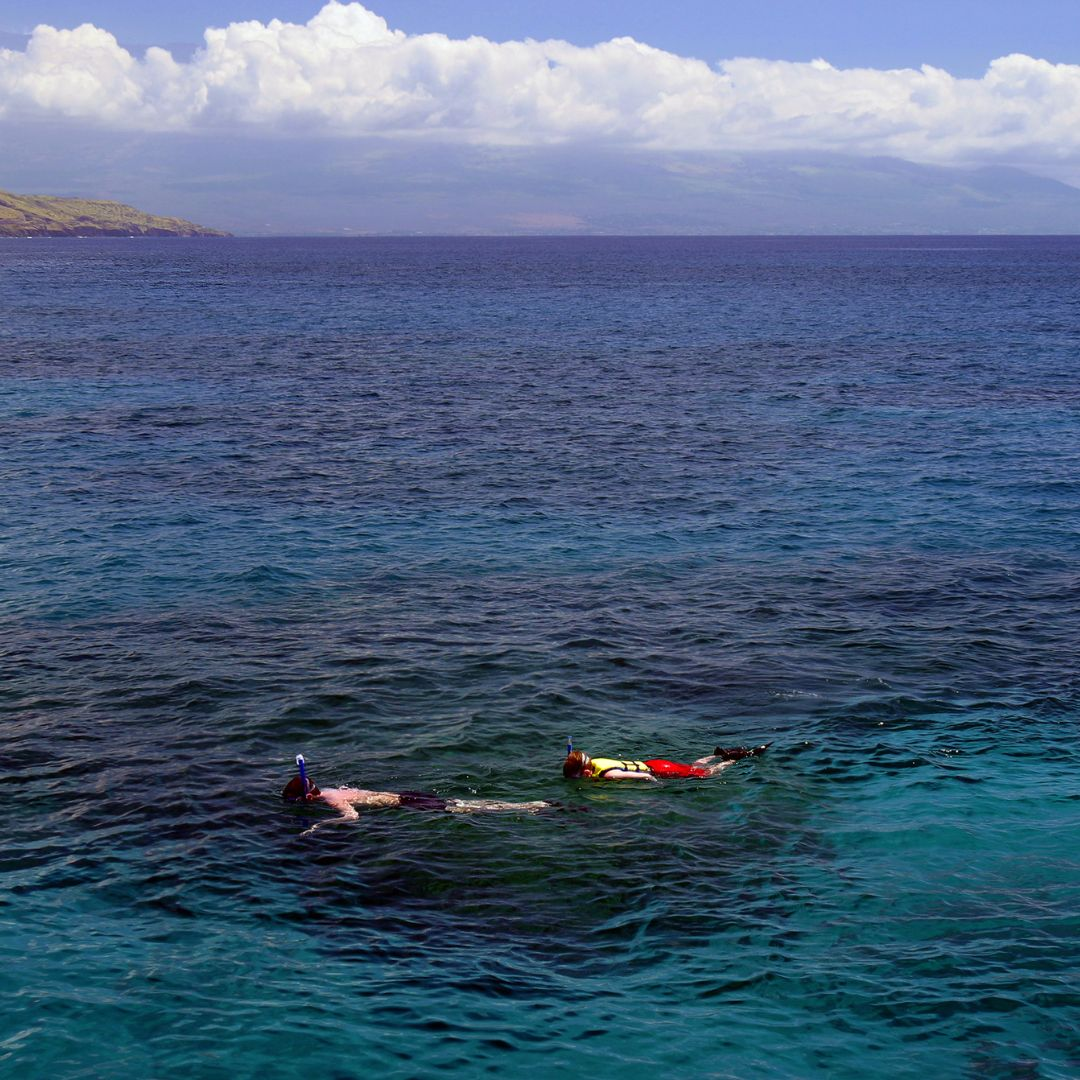 Upon arrival at Kona Airport and after sorting out your transportation needs, you can begin your exploration of the stunning beauty of Hawaii's Big Island. With its diverse landscapes, rich cultural heritage, and abundant outdoor activities, the Big Island offers a wealth of experiences for every traveler. From lounging on pristine beaches to discovering lush rainforests and active volcanoes, your Hawaiian adventure awaits.
Some must-visit attractions on the Big Island include:
Hapuna Beach
Kealakekua Bay
Anaeho'omalu Beach
Mountain Thunder coffee plantation
Kona Farmers Market
Whether you're a sun-seeker, nature enthusiast, or history buff, the Big Island has something for everyone.
Interisland Flights and Connections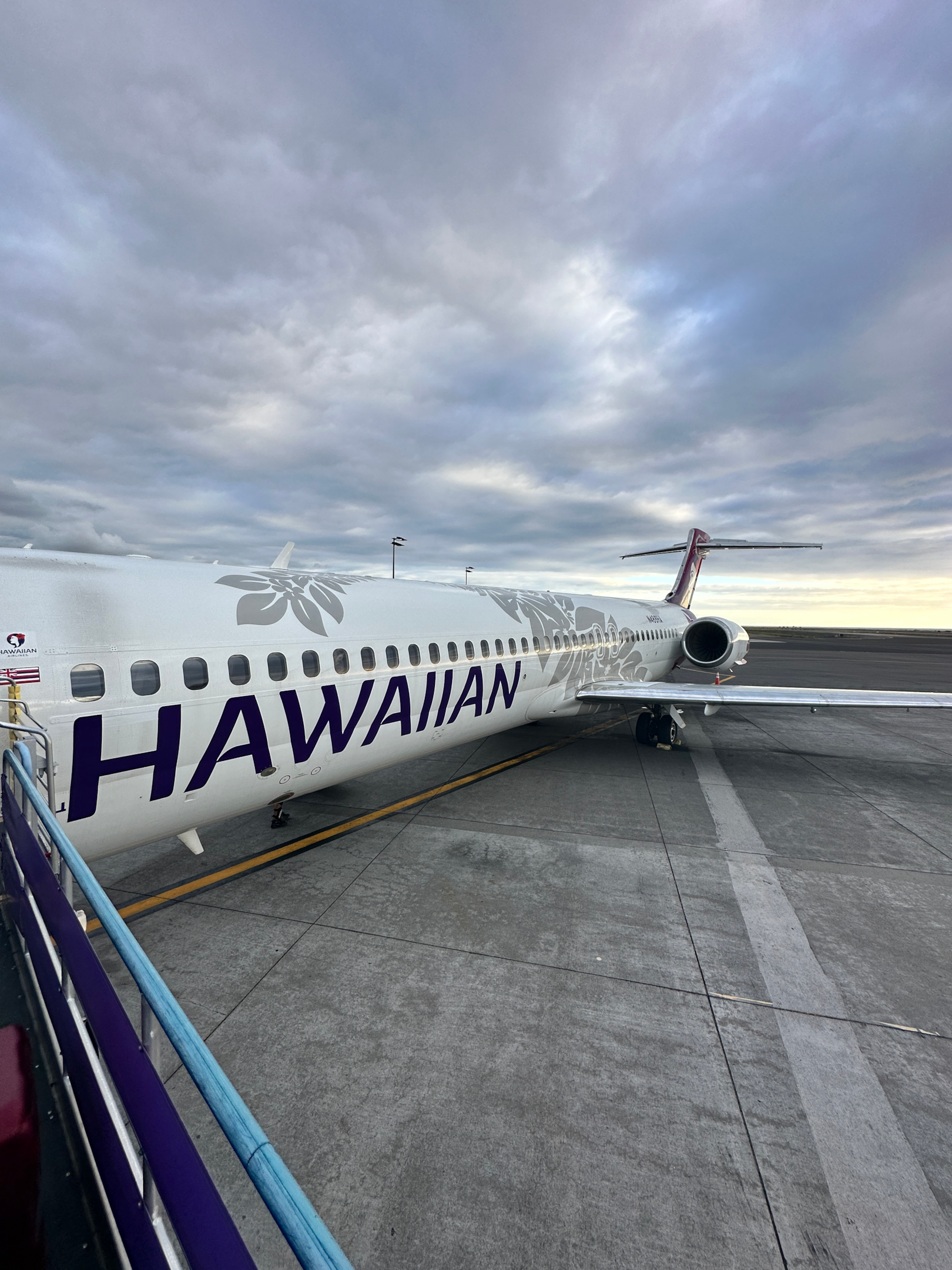 For travelers looking to visit other Hawaiian islands, Kona International Airport offers interisland flights and connections to make island hopping convenient and easy. Airlines such as:
Hawaiian Airlines
Mokulele
They provide general aviation operations, offering flights and connections from Kona Airport to destinations like Kahului, Maui (OGG) and Honolulu (HNL).
With these inter-island options available, you can discover connect or day-trip to another island.
Summary
Kona International Airport serves as the perfect gateway to Hawaii's Big Island, providing a unique open-air design and a wide array of facilities, amenities, and transportation options to ensure a smooth and enjoyable travel experience.
So, whether you're planning your first trip to the Big Island or you're a seasoned Hawaii traveler, Kona Airport is ready to welcome you with open arms and a warm Aloha spirit.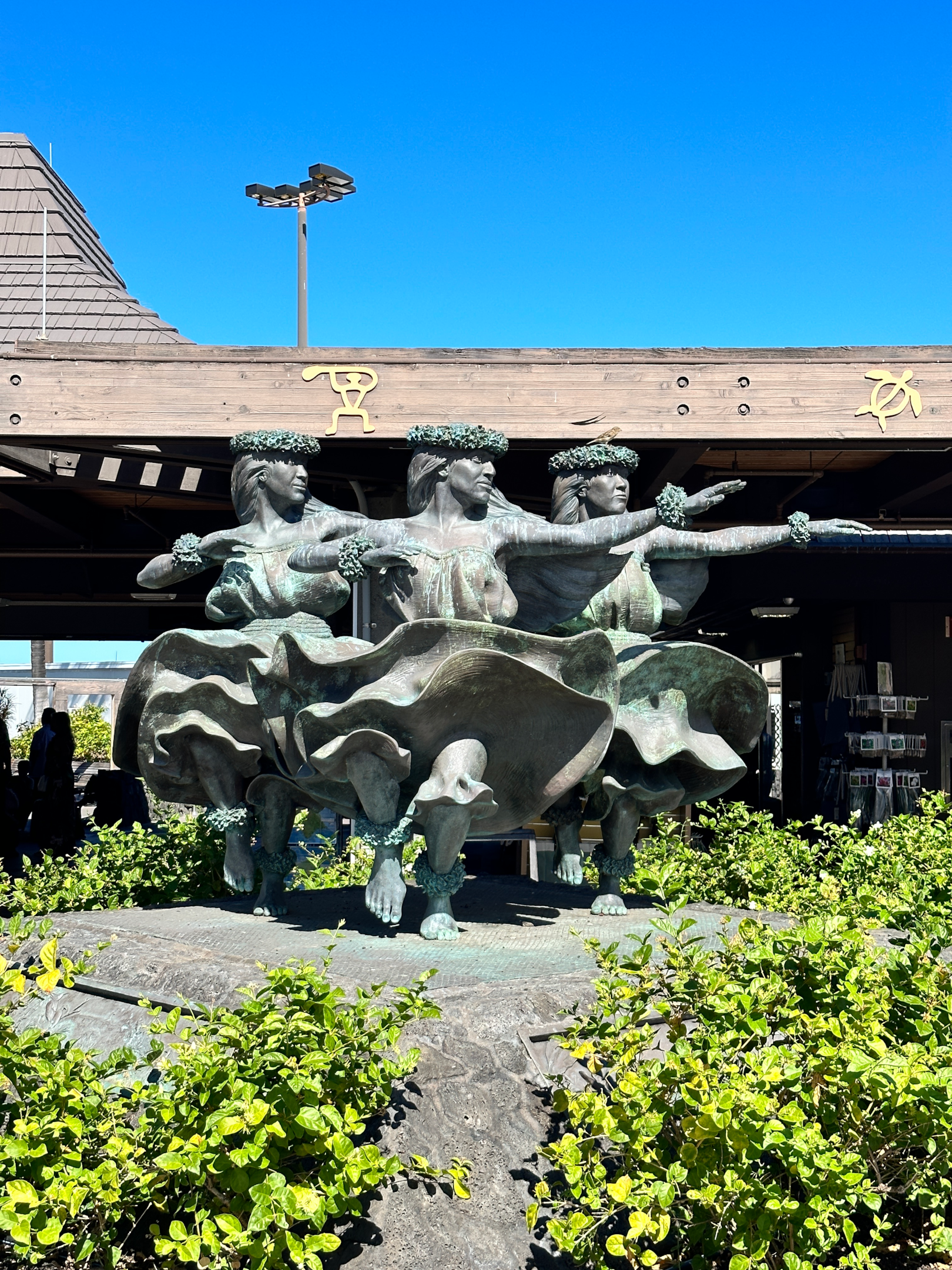 Frequently Asked Questions
Is there anything to do at Kona airport?
There is not much to do at the Kona airport with only a few snack shops and 2 sit down restaurants. It is best to head out and explore.
How far in advance should I arrive at Kona airport?
To ensure a smooth departure experience from Kona, it is recommended to arrive at least 2-3 hours before your flight. If traveling during peak times such as early mornings or holidays, or on an international flight allow extra time.
How many terminals does Kona airport have?
Kona Airport (KOA) has two terminals with 11 gates for interisland, mainland and international flights.
Is Kona and Kailua the same airport?
No, Kona International Airport at Keahole (KOA) and Kailua-Kona are not the same. Kona International Airport at Keahole is located 7 miles northwest of Kailua-Kona, on the Island of Hawaii. It serves transpacific and inter-island flights. Meanwhile, Kailua-Kona is a town located on the western coast of the island.
What airlines serve Kona International Airport?
Kona International Airport is served by 10 airlines, including Air Canada, Alaska Airlines, American Airlines, Delta Airlines, Hawaiian Airlines, Japan Airlines, United Airlines, Westjet, Mokulele Airlines, and Southwest Airlines.