The southernmost place in the United States has amazing opportunities for guests of all ages. Here are the best hotels in Key West for families.
Hyatt Centric Key West Resort & Spa 
The Hyatt Centric Key West Resort & Spa brings a boutique feel to one of Suites and Lobbies favorite hotel chains. This property has been a long time coming as other chains have long established themselves in Key West and Hyatt is a new entrant. It was worth the wait.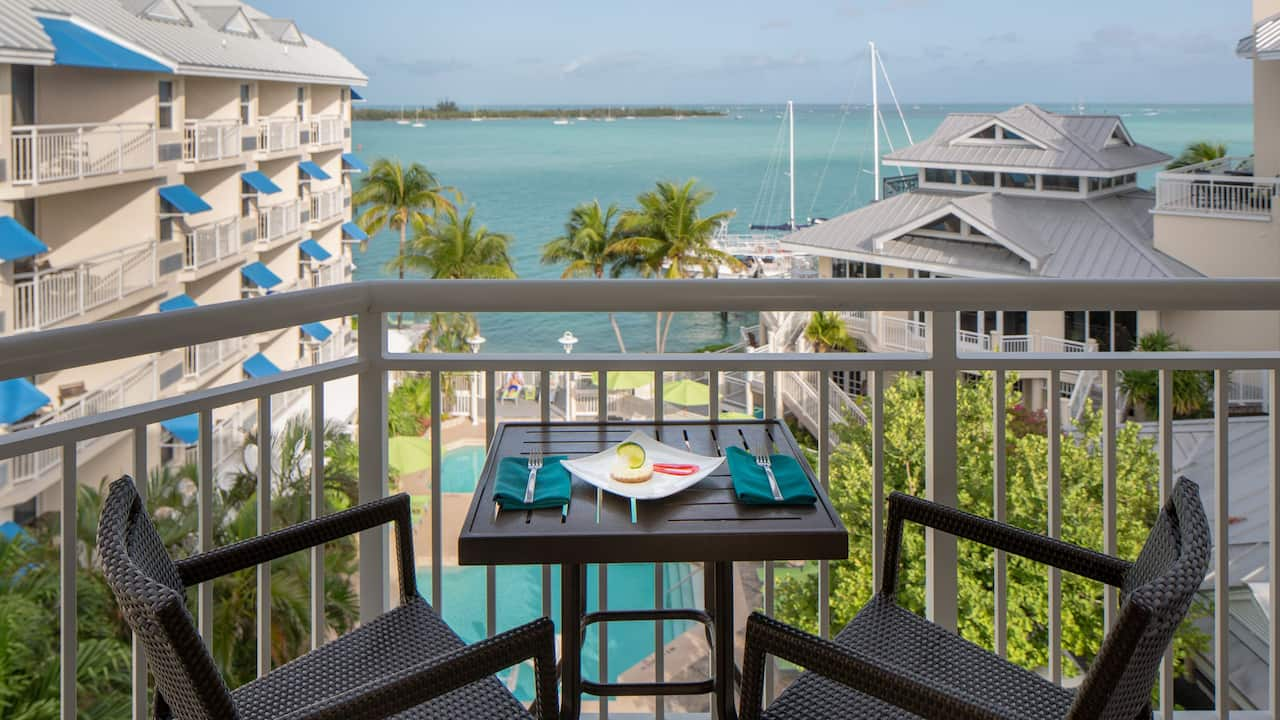 If you decide to spend a day in Miami be sure to read our guide – One Day In Miami
Southernmost Beach Resort 
There is a southern charm to the island generally, a style that can only be considered that of Key West, the Southernmost Beach Resort is built to this perfect architectural standard. All rooms have balconies to welcome in the sea breeze, white features and tin roofs are as standard as the roosters that (by law) roam freely around the island. 
The Southernmost is a reference to Key West's role as the Southernmost point on the US "mainland" (Guam is the southernmost territory, Hawaii the southernmost state.) The resort is not actually the southernmost resort in the United States, but it's close.
Nestled in Old Town, near Duvall street, southernmost offers a unique balance between Key West as it was and Key West as it is now. Tile floors and light pastels blend seamlessly with palm trees and crisp white linens.
Sunset Key Cottages 
Our top pick in the category of Best Hotels in Key West for Families
Some families prefer to spend a little more time in their destination and truly settle in, the Sunset Key Cottages is the perfect place to make yourselves at home. Its unique design of one, two, three, and four-bedroom cottages (including a luxury three-bedroom option) give gusts their own private paradise on the island. 
All cottages include a full kitchen and at least 900 square feet of living space. Wrap-around porches with outdoor furniture are nice ways to spend afternoons and evenings as a family. Large windows being the outside indoors with beautiful views of the garden or ocean.
What many families love about Sunset Key Cottages are the separation of spaces and expansive bedroom suites. The boutique hotel is also great for offering plenty of activities for all types of guests. At the beach, snorkeling jet-ski tours, and parasailing are available on-site. Tennis courts for those who want to remain on solid ground, and even bike rentals can be secured through the concierge on the property. 
Families who value this extra space, boutique charm, and personalized service will shell out more for the privilege. One-bedroom cottages start at $799, luxury and larger cottages are considerably more.
Photos Courtesy of Sunset Key Cottages 
Other Florida Keys Hotels
Hawks Cay Resort 
Located on the famous, Duck Key, Hawks Cay Resort offers families a distinct advantage – the island's subdued inlet. A barrier surrounds the island and absorbs the worst of the waves and largest sea life leaving tranquil waters perfect for families who want to venture into the water but have new swimmers in their family. 
We weren't able to formally include it in this list because all the way back at Mile Marker 61, it's not in Key West though it is in the Florida Keys. However, Duck Key is closer to the mainland, meaning the drive is also shorter to reach Hawk's Cay Resort if traveling on the overseas highway.
Families can enjoy the best fishing in the state of Florida, great food, and close proximity to Dolphin Quest, an interactive experience with dolphins that is both educational and memorable. 
Updated guest rooms, small suites, and a presidential suite will satisfy any guest, but families will enjoy a Family suite with bunk beds for the kids.
Photos Courtesy of Hawks Cay Resort 
Cheeca Lodge Spa 
Near the mainland of southern Florida is Isla Morada at the very beginning of the Keys. One of Suites and Lobbies favorite resorts for families on Isla Morada is Cheeca Lodge Spa. 
The hotel has everything a family could want from a resort. Kids can enjoy snorkeling opportunities and boat rides departing Cheeca's private pier. Parents can try their hands at incredible fishing or spend a day at the spa. There are plenty of pools in the event that the white sand beach and cabanas have somehow lost their luster. 
The rooms and suites of the property are also incredible, some of which offer outdoor tubs to soak in the sunset.